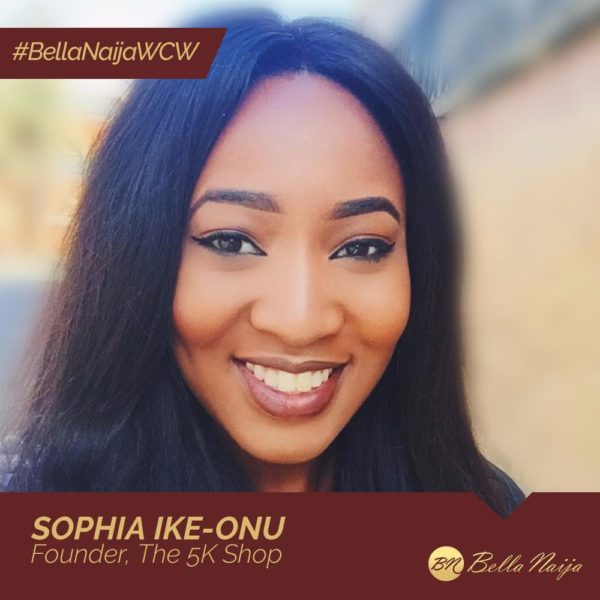 As the Nigerian fashion industry gained prominence and the Buy Nigerian campaign became more popular, what increased with it is the price of outfits, such that it became difficult for the average person to purchase them.
The narrative has been quality products are expensive, and rightly so. Most affordable (read cheap) products have less quality, and in the long run, buying them turn out to be a bad decision.
Our #BellaNaijaWCW today Sophia Ike-Onu has merged quality and affordability and is building a thriving business – The 5k Shop.
The 5k Shop is an e-commerce platform that stocks high-quality Nigerian products that do not exceed N5000. How cool!
The 5k Shop started from her home after she collaborated with a tailor to make the pieces, funding it from her life savings. She launched her business at a fashion exhibition and her products sold out by the end of the two-day event.
Fast forward to 3 years later, the company now has 10 staff, 8 working full-time and the other two on contract basis. Sophia has gone on to start her own fashion label T5S which contributes to 80% of The 5k Shop's inventory, with the remaining coming from other retailers.
The platform has now ventured into sales of home appliances and phone accessories. Sophia was featured on a CNN segment on 'Made in Nigeria' products and inspiring African entrepreneurs.
In 2016, she was listed as one of Nigeria's 100 Most Inspiring Women by Leading Ladies Africa. She also won the 2016 Enterprise Challenge organised by British Council, Virgin Atlantic, Samsung and Zenith Bank and was personally mentored by Sir Richard Branson.
Virgin Group also named her a female ambassador.
Sophia Ike-Onu is a BSc holder (Architecture) from Covenant University and a Masters degree holder (International Architectural Regeneration and Development) from Oxford Brookes University.
Sophia is promoting the Buy Nigerian movement, debunking any notion that quality and affordability are mutually exclusive, and we are rooting for her!
Source: BellaNaija