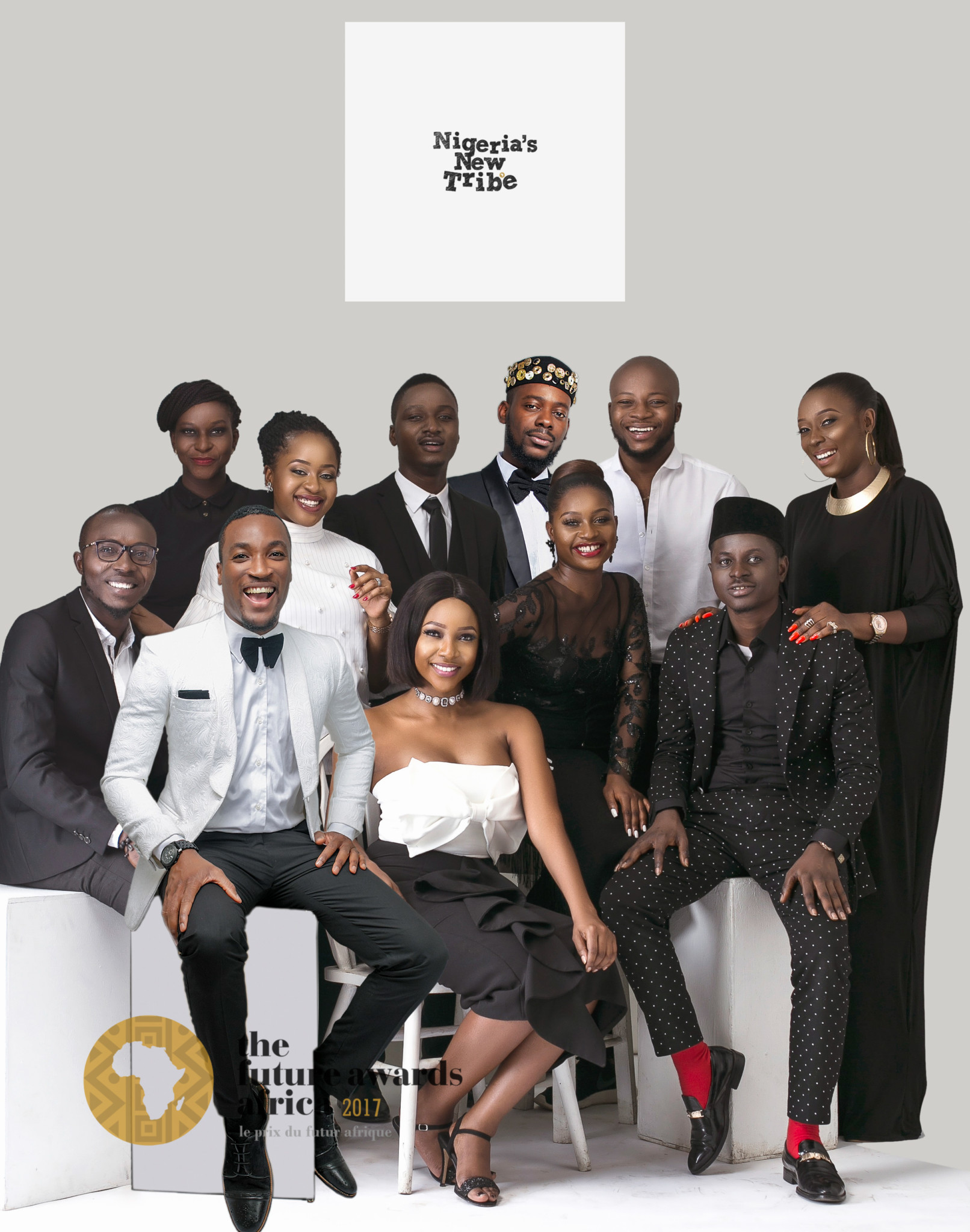 The Future Awards Africa (TFAA) has unveiled its list of nominees for the 12th edition of the prestigious awards.
With the mandate to celebrate and accelerate innovation among young Nigerians aged 18 – 31, the TFAA acknowledges inspiring young people making a difference through social enterprise, social good, and creativity. The Central Working Committee of the Awards selected five exceptional individuals for each of the 21 categories in contention this year.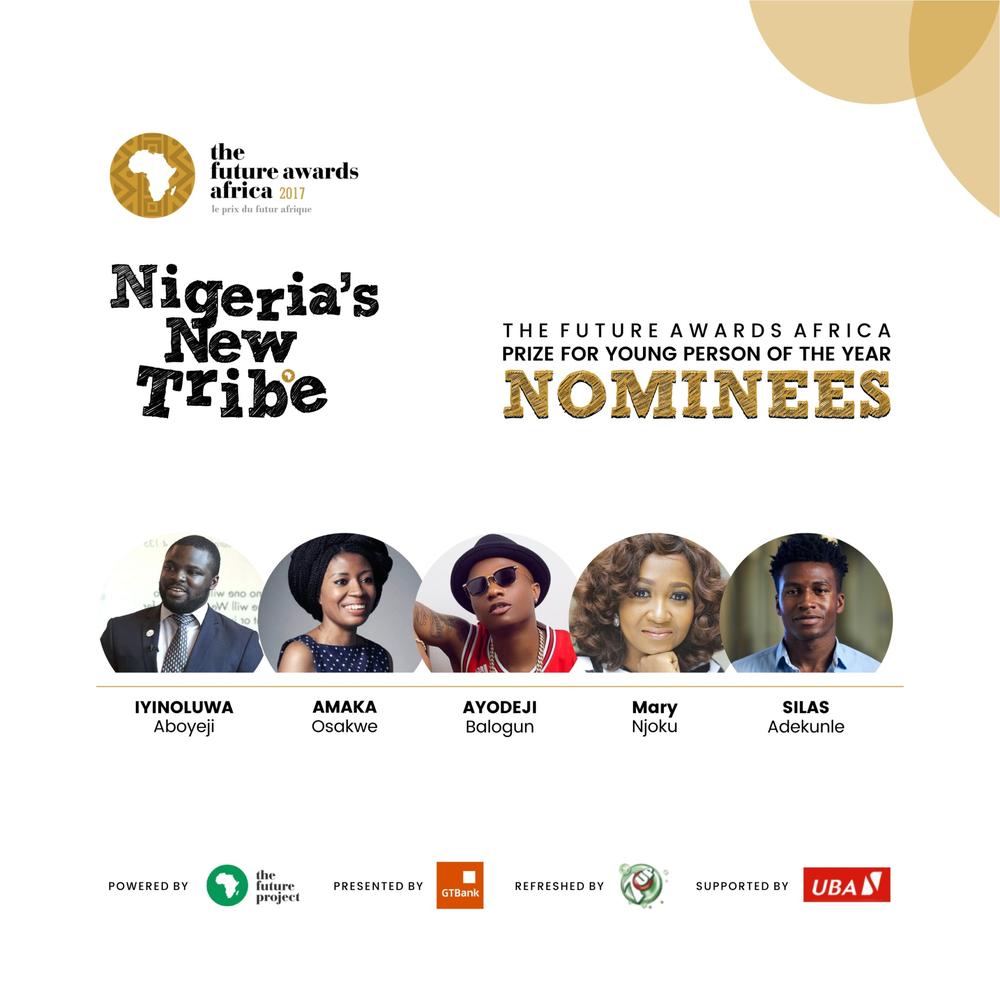 Beyond tribal lines, tunic differences and religious affiliations, these nominees are united by the possibilities of their talent, commitment to hard work and driven by achievement in impacting the economy, society, and rewriting the African narrative.
Themed 'Nigeria's New Tribe', The Future Awards Africa 2017 will hold on Saturday, 9 December 2017.
Meet Nigeria's New Tribe:
Category 1: The Future Awards Africa Prize for Acting
Samuel Ajibola, 30
Sambasa Nzeribe, 29
Bidemi Kosoko, 29
Akah Nnani, 29
Ini Dima-Okojie, 27
Category 2: The Future Awards Africa Prize for Fashion and Design
Joseph O. Ike and Ola Akindehinde (JZO Fashion), 31/26
Bisola 'Ladybiba' Adeniyi, 25
Paolo Sisiano, 29
Muktar Onifade, 26
Olivia & Sylvia 'Gozel Green' Enekwe, 31
Category 3: The Future Awards Africa Prize for Beauty
Grace Chinonso Okoli, 24
Ifeyinwa Ojekwe
Jennifer Uloko, 27
Adetola Anita 'Brows' Adetoye, 28
Vanessa Onwughalu, 27
Category 4: The Future Awards Africa for Music
Adekunle 'Gold' Kosoko, 30
David 'Davido' Adeleke, 25
Anidugbe 'Kiss Daniel' Daniel, 23
Austin Miles 'Teckno' Kelechi, 24
Simisola 'Simi' Ogunleye, 29
Category 5: The Future Awards Africa Prize for Professional Service
Mohammed Sani Sani Madugu, 22
Ibijoke Faborode, 27
O'tega Ogra, 30
Fiyin Williams, 29
Olamide Bada, 29
Category 6: The Future Awards Africa Prize for Business
Osemwengie Victor Odion, 30
Nnamdi Stan – Ekeh, 24
Toyin Onigbanjo, 29
Bisola Borha, 31
Ubi Franklin, 31
Category 7: The Future Awards Africa Prize in Sports
Asisat Oshoala, 23
Anthony Joshua, 28
Akhator Evelyn, 22
Alexandra Chuka Iwobi, 21
Victor Moses, 26
Category 8: The Future Awards Prize for Education; Endowed by the University of Sussex
Mukhtar Dan-mallam, 29
Samson Abioye (late)/ Oluyemi Oluwaseun Imole / Akanji Abayomi Gideon, 26/29/23
Olaseni Cole, 30
Wole Adedoyin, 31
Claudine Adeyemi, 28
Category 9: The Future Awards Africa Prize for Technology
Chris Kwekowe, 24
Tobi Ayeni, 27
Adebolu Ibukun, 27
Damilola Jegede, 32
Henry Obinugwu, 28
Category 10: The Future Awards Africa Prize for New Media
Richard 'Nasty Boy' Akuson, 23
Femi 'Kraks' Bakare, 24
Ademola 'Expoze' Adetona, 29
Delphine Okobah, 29
Dolapo 'LowlaDee' Adeleke, 27
Category 11: The Future Awards Prize for Media Enterprise
Timilehin Bello, 25
Oluwagbeminiyi Osidipe, 31
Tiwalola 'TJ Dotts' Olanubi, 28
Ijeoma Ndekwu, 28
Rick Nwanso, 27
Category 12: The Future Awards Prize for Public Service
Adetola Onayemi, 26
Olufemi Olukayode 'F. Shaw' Adeyemi, 32
Joseph Ike, 31
Titilola Vivour-Adeniyi, 30
Dada Olabisi Mary, 29
Category 13: The Future Awards Prize for Arts and Culture
Nadine Ibrahim, 23
Tunde Alara, 27
Ayobami Adebayo, 29
Fola David, 24
Modupeola Fadugba, 32
Category 14: The Future Awards Prize for Comedy
Otolorin Kehinde 'Kenny Blaq' Peter, 25
Victor Ebiye, 24
Olu 'SLKomedy' Salako, 27
Gloria 'Maraji' Oloruntobi, 20
Ereme 'Twyse' Abraham, 26
Category 15: The Future Awards Prize for Advocacy
Imrana Alhaji Buba, 24
Victor Ugo, 27
Ayodeji Osowobi, 27
Mary Yakubu, 23
Hauwa Ojeifo, 25
Category 16: The Future Awards Prize for Agriculture
Adetola Adeleke, 31|
Sipasi Olalekan, 30
Nasir Yammama, 27
Kafilat Adedeji, 29
Okorode Christian, 25
Category 17: The Edwin George Prize for Photography
Kadara Enyeasi, 23
Tolani Alli, 25
Omoregie Osakpolor, 27
Yagazie Eguare, 30
Lakin Ogunbanwo, 30
Category 18: The Future Awards Prize for Journalism
Nelly Ating, 28
Ayodeji Rotinwa, 27
Eromo Egbejule, 27
Mayowa Tijani, 29
Oladeinde Olawoyin, 29
Category 19: The Future Awards Prize for On-Air Personality (Visual)
Harry Itie, 29
Nancy Isime, 25
Olive Emodi, 28
Adesewa Josh, 32
Idia Aisen, 26
Category 20: The Future Awards Prize for On-Air Personality (Audio)
Irabor Okosun, 29
Ayeni Adu, 31
Tisan Jeremiah Bako, 31
Rosemary Ajuka, 27
Toyin Eleniyan, 31
Category 21: The Future Awards Prize for Young Person of the Year
Mary 'Remmy' Njoku, 32
Iyin Aboyeji, 26
Ayodeji 'Wizkid' Balogun, 27
Silas Adekunle, 25
Amaka Osakwe, 30
For more information, visit awards.thefutureafrica.com. Follow @TFAAfrica to keep up with the latest news on TFAA. The official hashtags for 2017 is #TFAA2017
Source: BellaNaija