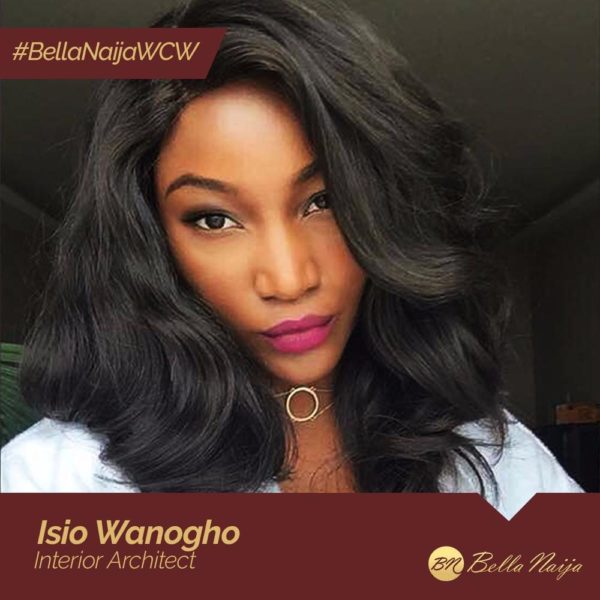 For this week's #BellaNaijaMCM and #BellaNaijaWCW features, we'll be celebrating two of our contributors who are succeeding in their various fields. (Read about Ayodeji Rotinwa's feature here)
Isio Wanogho is an interior architect, fashion designer, model, TV presenter, painter and writer… Phew! Like anyone who wears many hats, it didn't just happen in one day.
She left for boarding school at age 5 and while there, she explored and expressed her writing, painting and drawing talents. She also participated in debates and other literary competitions within and outside her school.
Isio began modelling at age 18, immediately after her secondary school education. Her big break in the modelling industry came when she was chosen to model for designer DAVIDA at the 2002 St. Moritz Style Selection – one of the biggest fashion shows in Nigeria at the time. She went on to model for other big names/brands. In 2015, she was unveiled as the face of DIESEL in Nigeria.
In 2006, she ventured into the world of TV presenting as a guest presenter on Nigerian International show airing across Nigeria & the UK. In the years after that she hosted TV shows for various brands and was head presenter at Spice TV, Soundcity's affiliate fashion station.
Isio bagged a Diploma in Fashion Design and Garment Production from Ginani Fashion Institute in 2010. She debuted 5000 outfits as one of three official designers for the Lagos Carnival in the same year.
Isio obtained a masters degree in interior architecture from Florence Design Academy in Italy, after which she set up – an interior architecture/design company which has fashion and communications departments – in Nigeria.
In 2014, she starred as Bibi in Ndani TV's popular web series "Gidi Up". In that same year, she began writing a column – Isio Knows Better – on BellaNaija where she shared "The shocking and highly entertaining conversation within myself. The conversations between my mind (the sharp witty one), my soul (the lover and the spiritual one) and my body (the playful one concerned with the more mundane things of life)."
Isio was named in YNaija/Leading Ladies Africa's 100 Most Inspiring Women in Nigeria 2017 list. She has also been nominated in The Future Awards Africa in the Model of the Year (2009) and TV Presenter of the Year (2010) categories.
In 2013, she was named Youth Ambassador by the Global Foundation for Peace, Unity & Development. In 2014, she was named Model of the Year at the Lagos Fashion Awards.
Isio is a bundle of several talents and she isn't afraid of exploring, learning more about, and expressing them. This has made her successful entrepreneur, fashion designer, model, painter and TV presenter, and for this, she is our BellaNaijaWCW this week.
Source: BellaNaija