Whether you want to start a career as a fashion blogger or you're simply trying to nail the perfect shot, mastering the art of striking a pose has become an Instagram need-to-know. And who better to teach you these things than bloggers, the #OOTD veterans!
---
My Body, My Self: Osas Ighodaro Ajibade
When BellaNaija Style asked me to share my body journey I was initially at a loss as to where to start and where to end. We are all on this journey called life and although I am many things: a mother, a wife, a daughter, an actor, a businesswoman, I struggled with the angle to approach the topic. I grew up not knowing and not feeling beautiful. I know that will sound crazy to many of you, but it was the truth. I didn't see myself as beautiful because initially growing up in the Bronx I didn't see a lot of images of what I looked like around me besides my Mum. However, I felt it was important to share my story now, especially as I now am the mother to a beautiful daughter, have fans who look up to me and like every woman in this Social Media age am impacted by the constant barrage of images of what beautiful is and looks like.

BACK IN THE DAY, WHEN I THOUGHT I WASN'T FINE
But taking it back to my school days, not seeing images that resembled me in representations of beauty had a huge impact. I would see Hispanic Girls and they had fair skin, beautiful long hair, and exotic features and just didn't feel beautiful. If I am honest, and this is a tough one to share, I had low self-esteem. My parents being so loving and supportive were concerned. They rightly felt that their child shouldn't have low self esteem that she should know that is beautiful both inside and out so they put me through modelling school to help with my confidence.
The Ultimate Guide to Nailing The Blogger Pose
---
Unathi Brightens Up DestinyConnect Magazine's February Issue
The year is off to a bright start for one of South Africa's favourite media girls Unathi (née Nkayi). The M-Net's Idols SA judge is the latest cover star for DestinyConnect Magazine February edition.
The cover photo is bursting with colours as Unathi wears a floral lace dress paired with coral tassel earrings and eccentric blue lace-up sandals perfect against a pink backdrop.
---
Mai Atafo on the Naked Side of Fashion For Escape Magazine
An exciting cover of Escape Magazine's latest issue shows the inimitable Mai Atafo with two models clad in black delicates only for a story on The Naked Side of Fashion.
This year's cover delivers an accompanying flare of dazzling light, courtesy of the reflective backdrop and neutral colour palette of the shoot.
Given his ability to take over just about every aspect of the industry from menswear to bridal collections you can't really dispute that Mai is a fashion maven. He even styled himself and the models for the photos that follow the cover story.
---
Jackie Aina wins YouTuber of The Year at NAACP Awards!
One of our favourite beauty vloggers, Jackie Aina took home her first NAACP Award last night, as YouTuber of the year at the 49th edition of the award show.
National Association for the Advancement of Coloured People is known for honouring outstanding contributions in art, music, literature, television and entertainment collaborated with Google and created this brand new category this year which makes Jackie Aina the very first recipient of the award in history.
---
What to Expect at Accra Fashion Week Chilly/Rainy 2018
Fashion Week season is fast approaching and we're marking our calendars for the Chilly/Rainy season of the annual Accra Fashion Week a platform that showcases fabulous designs from both local and foreign designers.
---
Herieth Paul Shows Off "Hockney Pastels" for ELLE Germany February 2018
Tanzanian model, Herieth Paul is light-hearted in pastel hues that elucidate modern colours for ELLE Germany's February 2018 issue.
For the editorial, the Victoria Secret Angel is photographed by Enrique Badulescu in 'Pleats Please' by Issey Miyake, Michael Kors Collection, Akris, Chanel and more. Enrique Badulescu flashes Herieth in 'Hockney Pastels', creating a mood board inspired by English painter, David Hockney's works.
ELLE's group of magazines continues to push inclusivity, casting models like and , for cover features and fashion editorials.
---
Bagtacular! Elevate Your Outfit with Femi Handbag's FH Trunk
If there is a fashion brand that understands the beauty of a woman's accessory, Femi Handbag is definitely one of them and that is why we are kicking off this special series Bagtacular! with one of their latest products.
Known for their high quality and beautifully curated bags, the Nigerian accessories label who significantly produces all their bags in Nigeria constantly proves even locally produced products can be of great quality.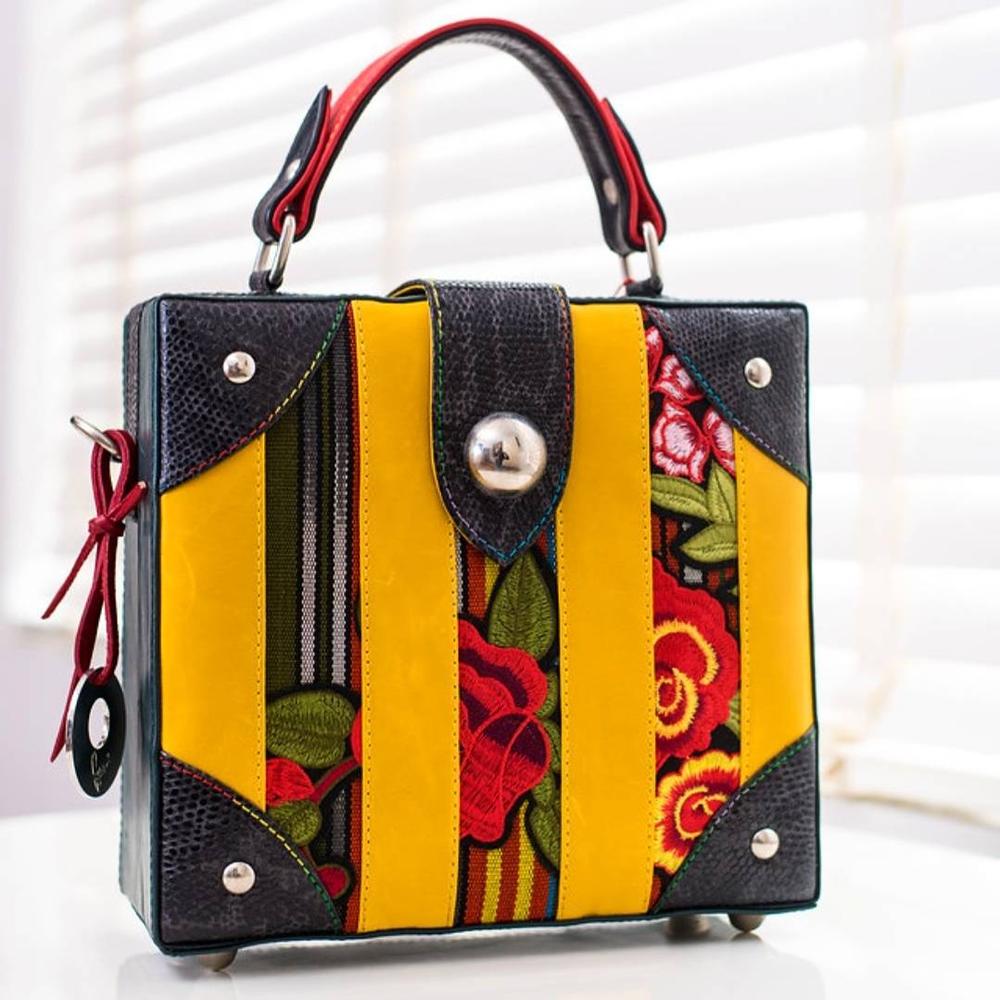 The brand encompasses everything a woman's handbag should be, audacious, fun, chic and practical, and that just perfectly fits into our narrative of Bagtacular!
---
Hafsah Mohammed – The Designer Redefining Modest Fashion
Hafsah Mohammed is more than just a designer and blogger, she's a lifestyle mogul that's changing the way modest women approach fashion and personal style.
Hafy, as she is fondly called, is one of the people that lead the modest fashion community in Nigeria with her website , and her fast-rising womenswear brand Elora Collection.
Although for a long time, a lot of people ascribed Muslim fashion to traditional kaftans and loose fitting clothing. Recent trends show international brands are taking inspiration from modest styles; higher necks, bulkier sleeves and longer hemlines.
I wanted to design for girls like myself. Young ladies that love fashion and want to be modest at the same time. A lot of brands out there don't design for modest women and I wanted to change that. I wanted to give modest women everyday trend and fashion in covered clothes.
---
These Zambian Bloggers Created a Lookbook for Bata And We Love It
Ever heard of MaFashio?
If you are one of Sekayi and Tukiya Fundafunda (aka & of )'s almost fourteen thousand Instagram followers, you're probably already quite familiar with their work with shoes in Zed. (We stumbled across their page from one of our other Zed favourites, of theFestGurus.)
Although this one is from back in October, it's still one of our favourites – From crisp black brogues to eye-catching metallic slides – this adroitly shot and styled shoot from the sister duo is perfection.
---
What Yvonne Orji Wore to NAACP Awards that Had Everyone Talking
Yvonne Orji is quickly becoming one of our favourite red carpet girls. The actress turned heads when she appeared at the National Association for the Advancement of Coloured People Award show last night in California, wearing a long-sleeved dress from Dion Lee's Resort 2018 collection featuring hand draped silk satin bias strips and softly detailed with nautical knots.
---
Falana is the Genre-Defying Songstress About To Take The Industry By Storm
Image-makers the world over, know there is a transformative power in fashion, one that becomes even more obvious when linked to music. Look to some of the more drastic style transformations of our generation – from Rihanna to Solange, Nicki Minaj to Lady Gaga, we see an inevitable link between the refinement of their personal style (stylist aided or not) to their rise in prominence, (whilst there is obviously another link – musical success = more money = more of an overall budget = better clothes and stylists.) Style is still an undeniable factor in this complex formula. Whether it's the subtle 90's Shabba Ranks look of Burna Boy circa his debut or Rihanna's visual announcement that she'd – the language of style is a visceral part of the way we experience the world's biggest stars.
---
Abiola Kola Daisi is Speaking Our Mind… With a T-shirt
From the street style to fashion shows, the fashion crowd loves making strong messages with what they are wearing. One of our favourite style-stars Abiola Kola Daisi is clearly so into making statements with tees that she recently released a collection of t-shirts with interesting catchphrases.
---
Dodos Kept it Chic, Classy & Cool in Marrakesh
Dodos is an Award-winning Celebrity Makeup Artist with an eye for clean simple yet striking beauty. She's the definition of simplicity with an edge. Dodos is also a global beauty, fashion and lifestyle influencer with a and her brand and has worked with many local and international brands like Lancome to Clinique, Daniel Wellington, Zaron, Taos and more.
Dodos with a group of girlfriends and today, we're highlighting her personal travel style for her trip to Morocco. See our interview with her below
Why do you love travelling?
I have always wanted to see the world…
---
Nyma Tang is Creating a Unique Lipstick Shade with MAC Cosmetics
Nyma Tang has grown into a huge, encouraging brands to expand their foundation ranges with her viral series #TheDarkestShade. With so many remarkable collaborations under her belt, the South Sudanese vlogger and content creator is creating a lipstick shade with MAC Cosmetics as part of their beauty influencer campaign.
We're taking cues from some of the red lip colours she plays with on her Instagram and predicting that the new shade will be a preppy red matte lipstick. (fingers crossed)
All I'm thinking about is #food 🍩 Details: @mywunderbrow in Jet Black @nyxcosmetics total control drop foundation "Espresso" @colourpopcosmetics #nofilterconcealer @rcmamakeup no color powder @bobbibrown "Bronzed Glow" Highlighter @blackopalbeauty Blush "Warm Berries" @morphebrushes 350 2 palette @anastasiabeverlyhills Lipstick "Ruby" @hudabeauty Lashes "Farah"
---
Makeup is Art and This #BlankCanvas Campaign Proves It
Makeup artists continue to prove that their craft is art with various intriguing trends. From the transformation of a bare face to a heavy beat face to the much needed day to night look evolve, the natural no makeup looks, non-touring, and now the #blankcanvass look which basically highlights that like art the face is a canvass.
The campaign started with makeup enthusiast using makeup to creating an artistic portray of what a blank canvass looks like after an artist had worked on it using makeup, she captioned it "Blank Canvass".
Most makeup artists took the initiative to create their interpretation of what a worked on blank canvass looks like after the use of makeup and from there on, it has become a campaign the artistic ones are trying their hands on.
---
Nude Nails Are Back, But With A Dose of Drama
Nail trends have continued to vary over time, and just like the weather, the next trend is almost unpredictable. Summer of last year saw us gravitating towards chrome nails, but as we came towards the end of the year, glitter and sparkle was all we kept seeing. Dating back to the early days of last year, bold colours were the order of the day and the trends go on.
---
---
Tajé Prest is the Perfect Muse for SGTC Clothing's Latest Collection
Rising womenswear label SGTC Clothing in collaboration with the media girl and model Tajé Prest recently debuted its plus-size collection dubbed Beautiful Me, and it is filled with colourful outfits for the contemporary woman.
The collection caters to modern stylish plus-size women with a penchant for diversity in their wardrobe choices. The SGTC clothing brand prides itself on catering to women of all sizes with their Afrocentric pieces and creatively curated aesthetic.
---
Asher Oyelowo Walks His First Runway at The Dolce & Gabbana Show
Asher Oyelowo, son of British-Nigerian actor David Oyelowo, made his runway debut walking for Dolce & Gabbana.
His proud father made the revelation, posting a photo and a video of his son walking on his Instagram. He wrote:
Congrats to my beautiful son @asher_oyelowo on his runway debut for @dolcegabbana
See the post below:
Photo Credit:
---
Tinie Tempah unveiled the Coolest Collection at London Fashion Week Men's
It's not even news that Tinie Tempah is one of the most stylish British men, so it came as no surprise when the English rapper of Igbo descent launched his fashion label What We Wear at London Fashion Week Men's in 2017.
At the 11th edition this year, the millennial designer unveiled his Autumn/Winter 2018 collection titled #RealWorld; an 18-piece collection featuring the brand's W zigzag logo on sweaters and neck mufflers, knitwear and suit set designs rooted in sportswear, as well as winter-fit leather versions of the brand's signature tracksuits.
Source: BellaNaija