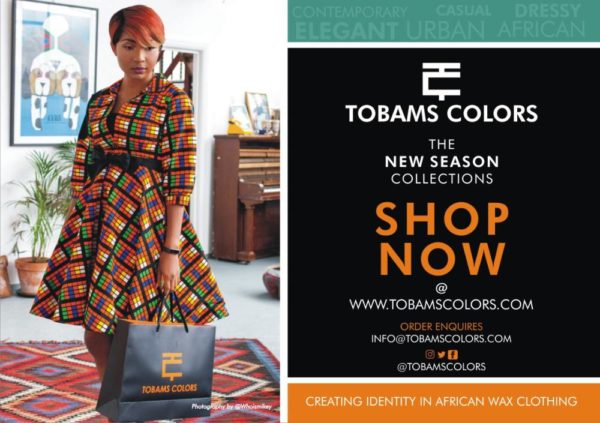 Nollywood actress Belinda Effah who is fast distinguishing herself as a person willing to cross boundaries and make an impact in other spheres of lives has just added another feather to her cap. She has been selected as Brand Ambassador for Tobams Colors, a UK-based fashion house that specializes in creating high-end clothing in traditional African Ankara wax material. The pieces which are in stylish yet affordable designs is the brainchild of the talented and amiable Founder Jite Newton. 'Our patterns are bold and bright and the colors are vivid. We use an extra densely woven fine cotton fabric she says and our super-wax has our recognizable design signature featuring six colours all of which represent a deeper meaning. They are an acronym of our name'.
TUSCAN SUN – Sunshine, Charming Brightness and Optimism.
ORANGE – Joy, Warmth and Creativity.
BLACK – Power, Elegance, Prestige and Authority
ALABASTER – Sophistication, Versatility, Tranquillity
MIDNIGHT BLUE – Loyalty, Intelligence and Calmness
SHAMROCK GREEN – Growth, Freshness and Quality.
'We wanted to fill a gap in a terrain we felt had no clear identity or street leader in the production of African Wax prints for day to day wear. We are all about maintaining African roots and combining it with European style.' I must say they have succeeded judging from these designs on Belinda!
Photograph by
Makeup
Tobams Colors which had a fantastic launching at the Africa Fashion Week London last year will be featuring at the 2018 Accra Fashion Week taking place on the 29th of March to the 1st of April so watch out as they take the world by storm.
Give yourself an Easter treat and shop for some lovely designs at www.tobamscolors.com
You can also follow us on the following social media accounts:
Instagram:
Facebook:
————————————————————————————————————————————————————————————
Sponsored Content
Source: BellaNaija