You might have known it as Lagos Fashion and Design Week but now, the #LFDW is back and better with a name change to Lagos Fashion Week so that's #LFWNG to you and the rest of the fashion world, here in Africa and internationally.
Yes, this name change is a bold statement, one in the direction of global dominance and recognition when it comes to African fashion. Dare we say we're now amongst the big 4… so the big 5? A girl can dream 🙂
Of course, BellaNaija Style was there to cover all the juicy bits of the Autumn/Winter shows this year. Find our coverage on Instagram with .
Behind The Scenes: Omoyemi Akerele @omoyemiakerele for @guardianlifeng She talks to us about her career and how she uses her platforms to help develop the industry. Creative Team Creative Direction: Chidera Muoka (@themadamezeta) Photography: Jerrie Rotimi (@jerrie_rotimi) Styling: Nkem Okorafor (@nkemokorafor) Make-up: Jumoke Tychus for Eyesome Beauty (@eyesome_beauty) Shoot Assistant: Chidirim Ndeche (@chidrim)
Ahead of the Onalaja showcase today, we had a quick chat with Kanyinsola Onalaja about what to expect this season.
The Inspiration Behind the Collection

This season, I really wanted to steer the brand towards a slightly new direction. I stripped back the usual fuss and excess and reverted to a "new clean aesthetic" focusing on tailored aspects with subtle hints of the usual demi-couture elements that are true to the brands DNA (Heritage, Artisanal Craftsmanship, Quality and Luxury).
You will still see our hand beaded, hand- painted and manipulated elements, however.
Although I do look to trends, it usually is not my go-to starting point. Developing a concept and researching various topics with historical references are always a must!.
Favourite Piece from the Collection

Definitely a hand-beaded two-piece number. But you are going to have to wait to see that!
The Importance of Fashion Week
Fashion week is always the perfect opportunity for me to showcase new elements and characteristics of the brand and to truly give a glimpse each season of how the brand continues to grow and form its identity.
Stay tuned to us for even more coverage from Lagos Fashion Week and see more #LFWNG18 Sneak Peek from other designers .
Platforms like Lagos Fashion Week are making it possible for brands like MO AGUSTO to showcase their talent and get needed global exposure.
Lagos Fashion Week is arguably the biggest force creating structure and an international platform for the Nigerian fashion industry. To me, being a part of LFW is an opportunity to shape the narrative of fashion from Nigeria to the rest of the world, says Motunrayo
Ahead of her show by 7:30 pm today, the designer gives us an insight into the brand's Autumn/Winter 2018 collection.
By the looks of these sketches and fabric sneak peeks, we can already tell this season will feature more breathtaking moments than we can count.
According to her:
This collection is a sequel to our Spring 2018 collection. There's a structure around which the Spring collection was designed, that is relevant to this collection. I focused a lot more on colour this time, choosing a more conventionally "girly" colour palette and adopting a really playful approach to design. I had a lot of fun creating this collection.
We are particularly looking forward to Maxivive's Glistening collection showcase, inspired by the effect of sunlight on water.
The menswear brand's Wet 2018 collection takes a bold step away from its abstract Vogue-approved 2017 capsule collection in partnership with TIERs. This season, Papa Oyeyemi embraces opulence and nothing pours on the glamour like the use of a spectacular array of luminescent fabrics. According to him:
The idea around Glistening (characterized by the act of not listening to status quo, especially in event, intensity, or comprehensiveness of absolute positive self-awareness of oneself) is a foundation for the collection. The effect of sunlight on water seconds the inspiration for our wet 2018 collection. The subject is used arbitrarily in putting the collection together, either with severe colours collision, Hand-applied glittery beadings or the major use of water-resistant nylon polyesters. Various elements, of glitters and waterproof techniques, were pinned to the to the mood board, expressive colours, binding silhouette and daily wet season functional garment studies were generally infused.
Click each designer's name to see the full collection on BellaNaija Style. Photo Credit: Gbenjo Abimbola |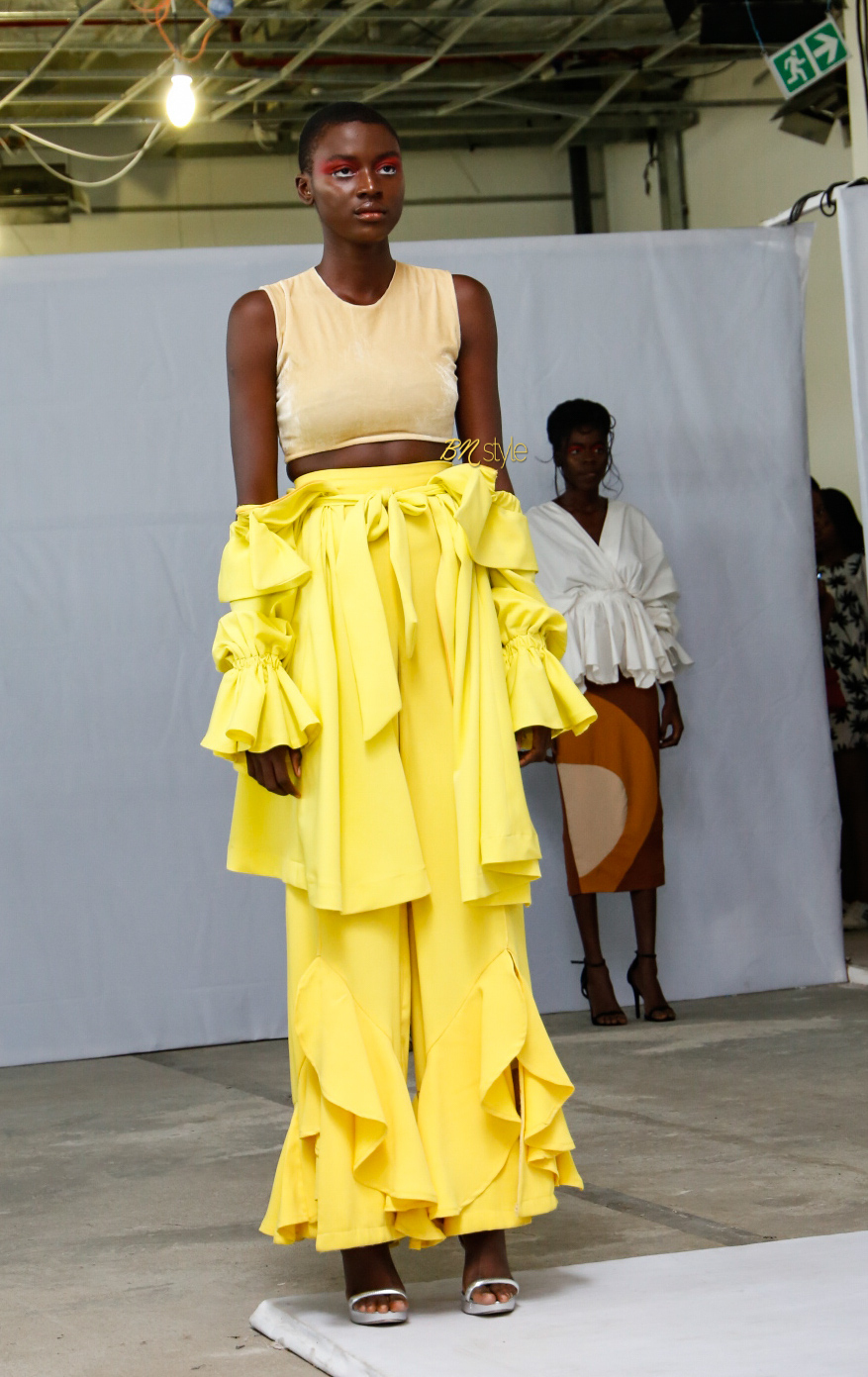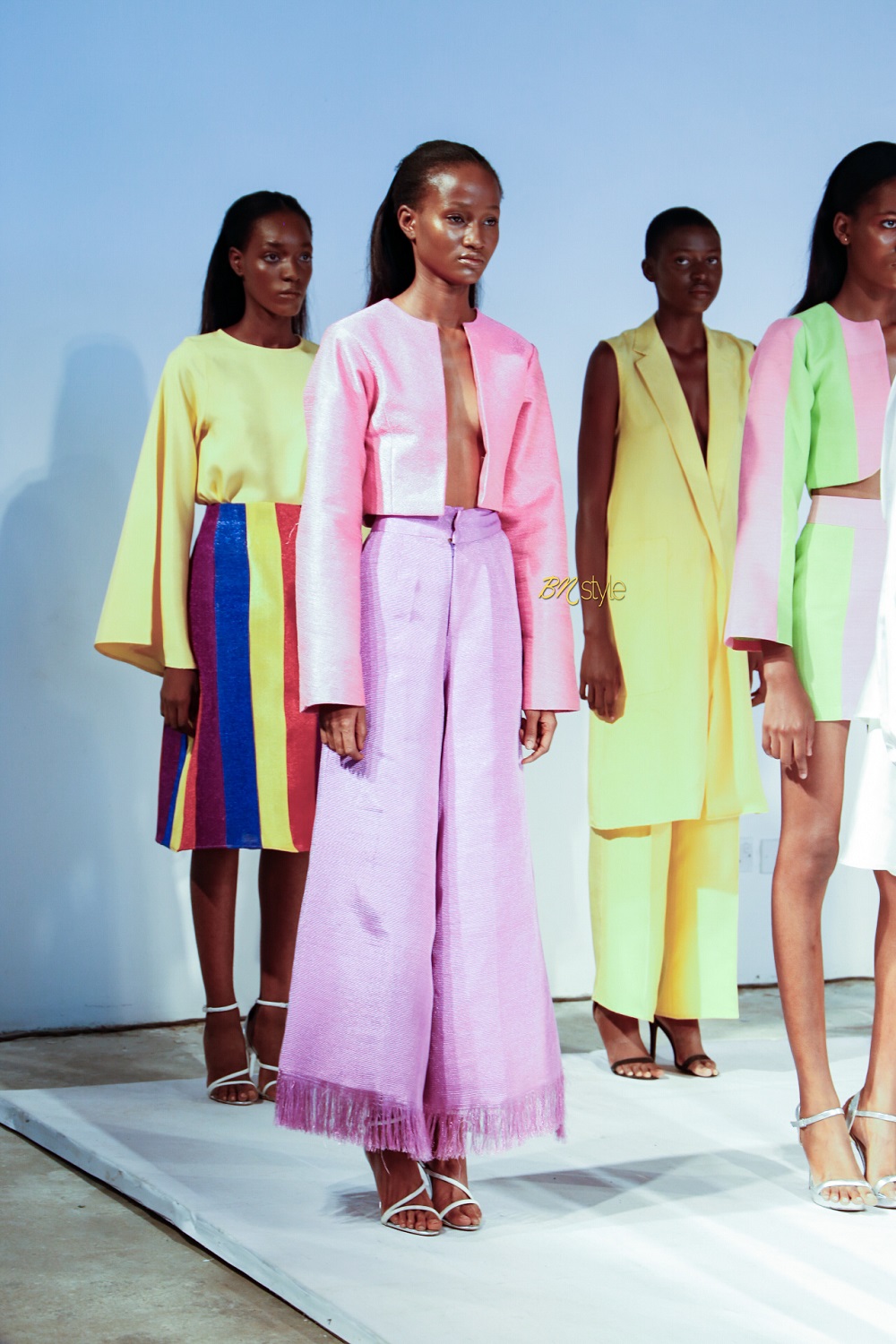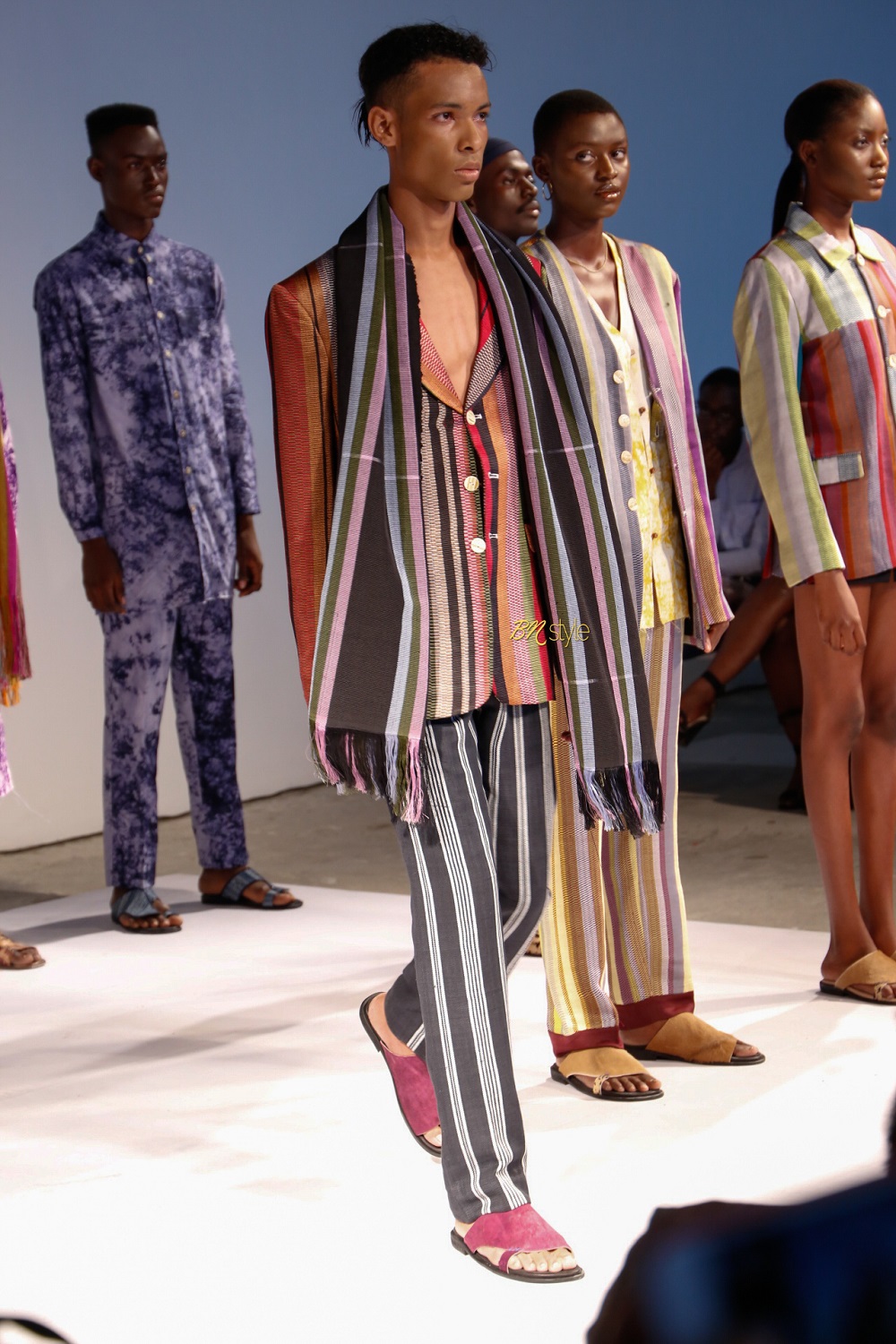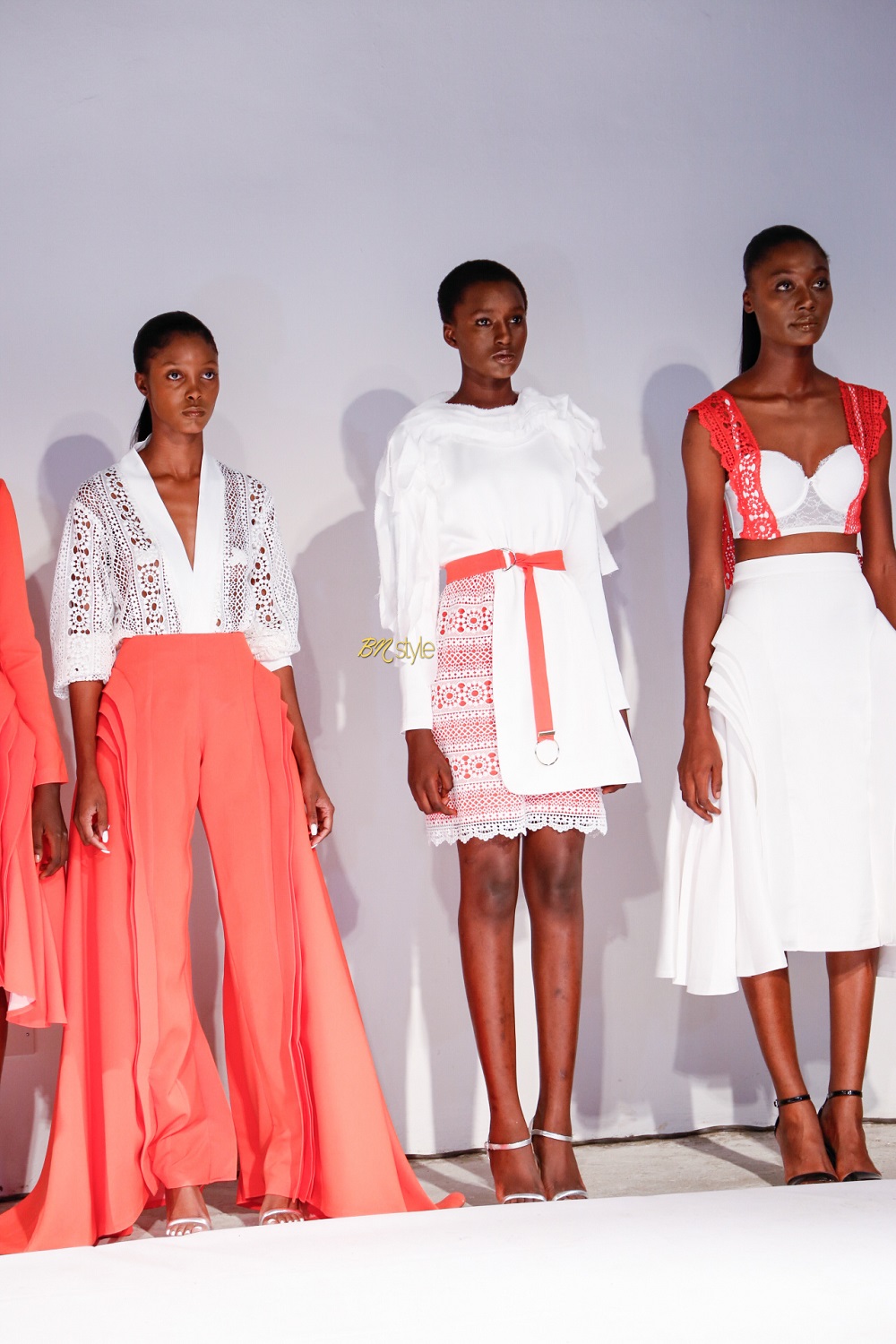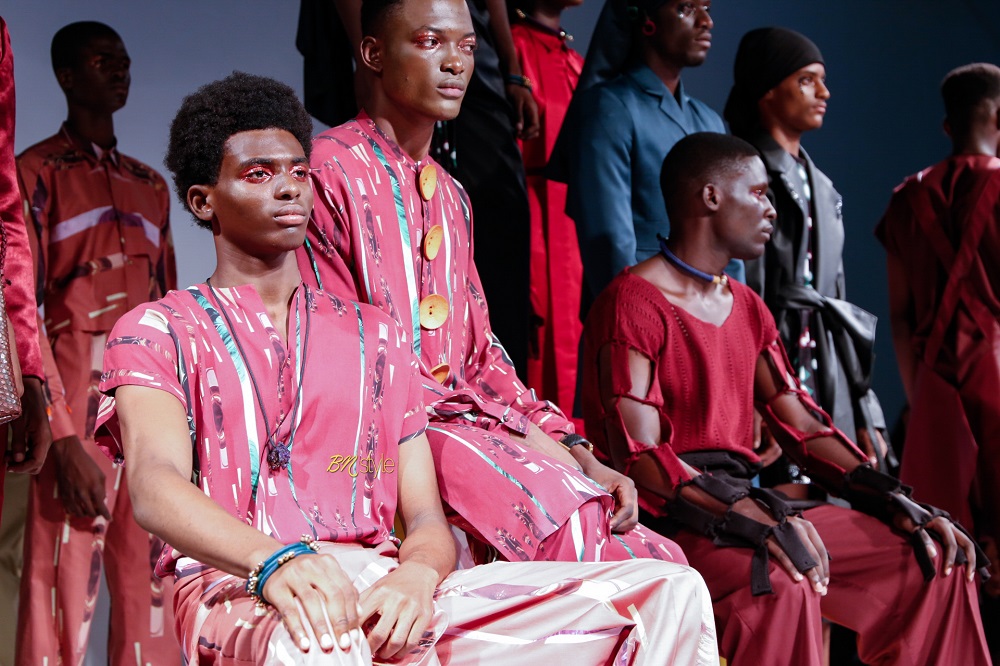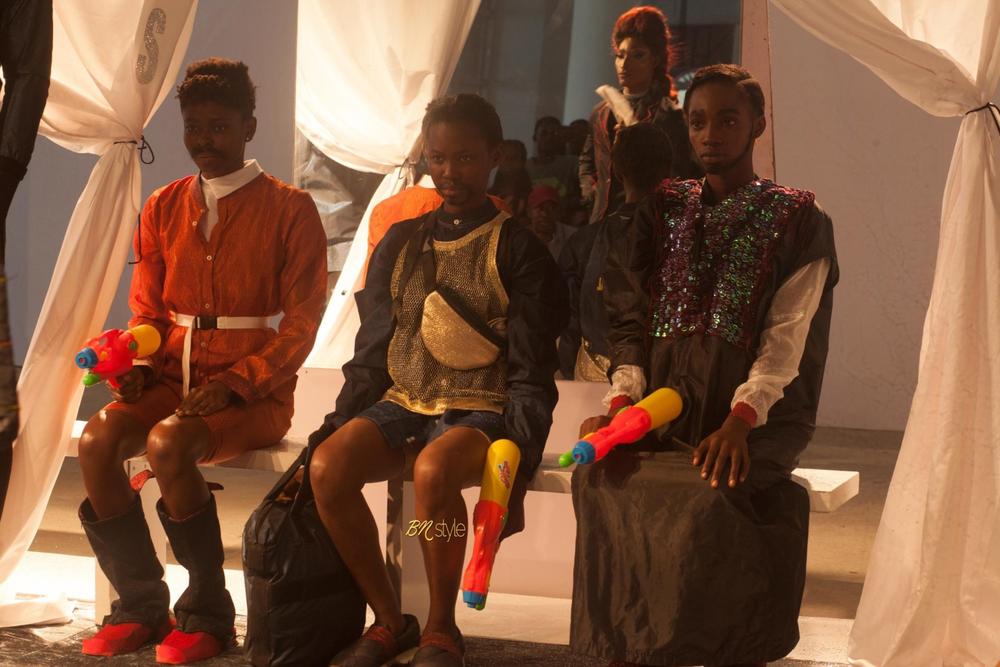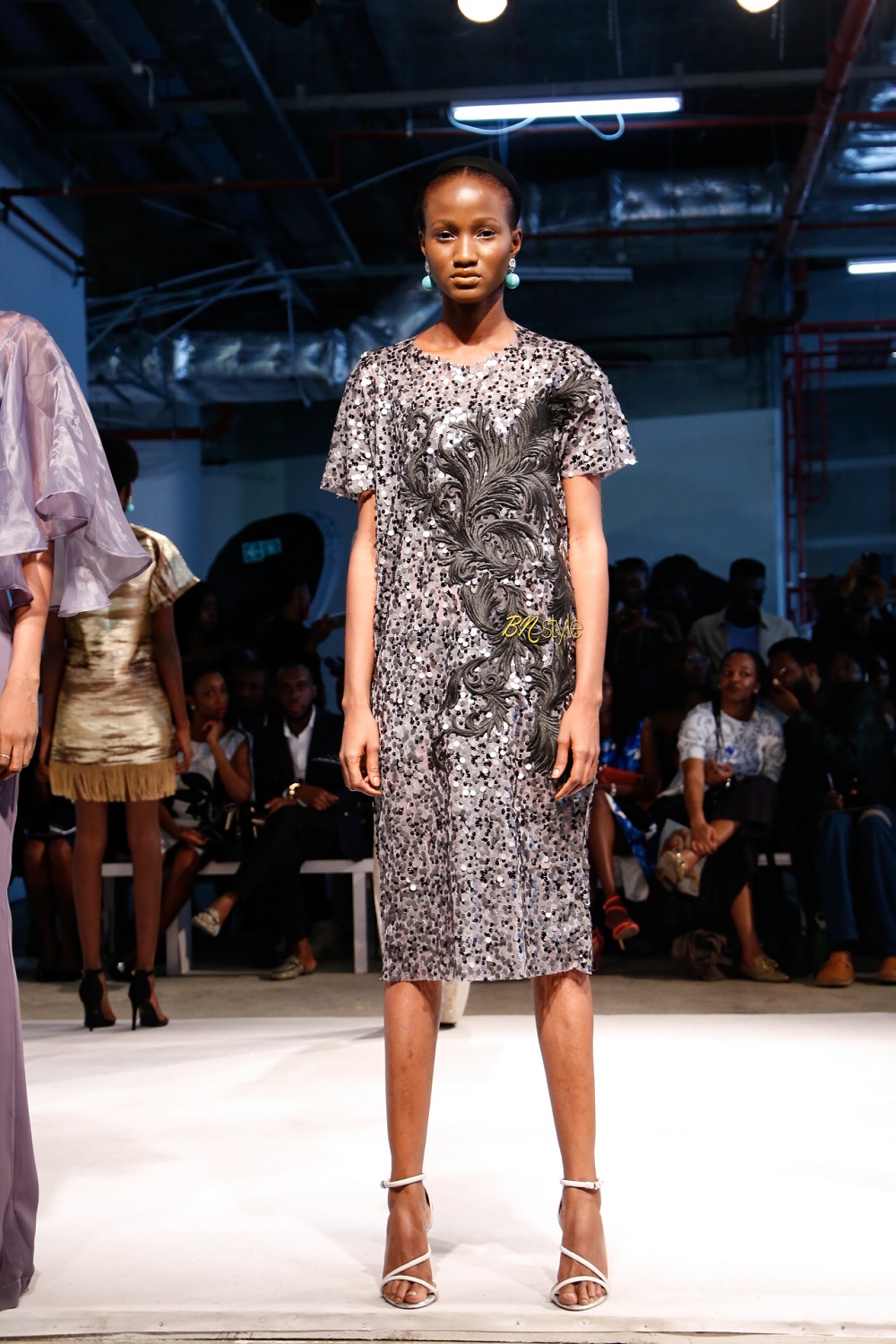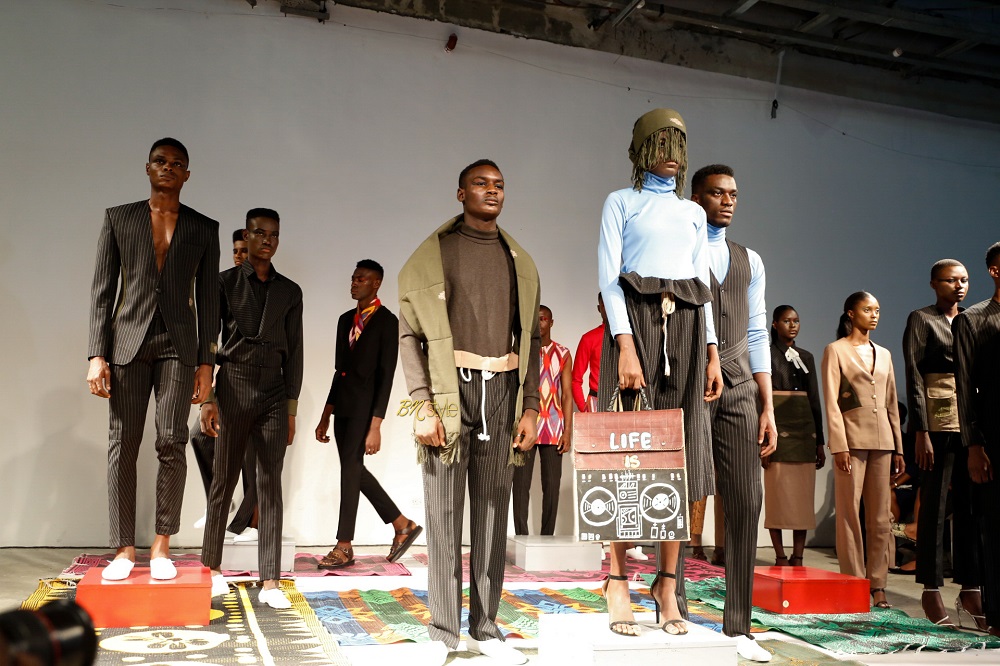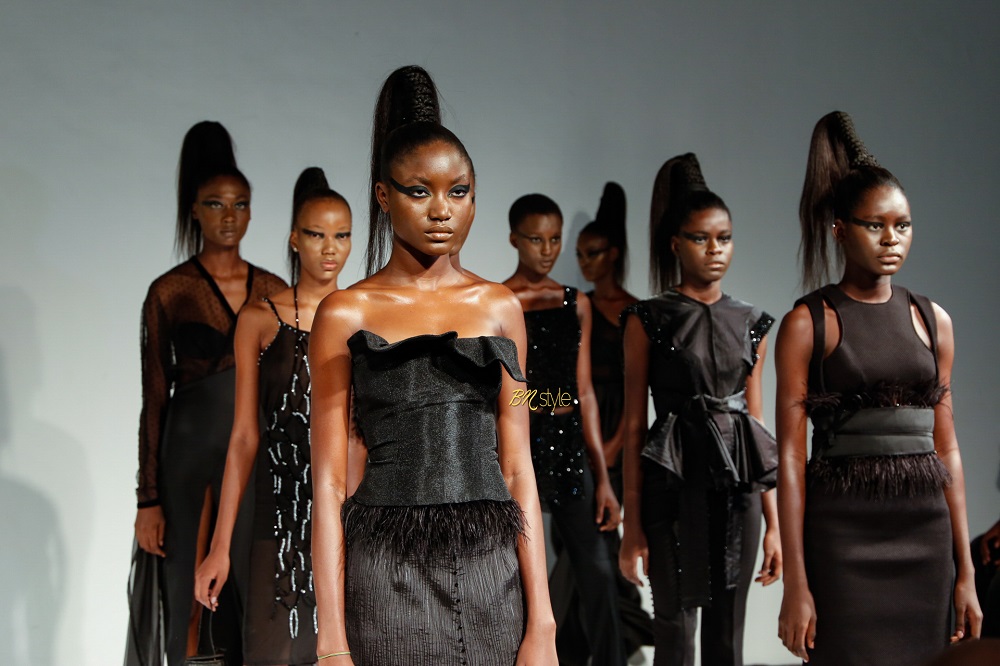 With a chai iced tea latte from My Coffee in hand and bottle of water in case of thirst later, I sat front row with my friend Arinola Fagbemi, a buyer for Alara and waited for the first show to start. We were given order sheets just in case we were interested in making any purchases right off the runway. I thought this was a great addition, mostly because our designers must not be kept hungry! Buy Nigerian. Buy African!
Gozel Green
The Gozel Green show was a great presentation of the brand's unusual style. Prominent colours in their palette aside from neutrals were green and red, a combination we've realized is a favourite for the fashion house.
Day 2 of Lagos Fashion Week's Autumn/Winter show had a better turn out that Day 1, as expected. People came out to support designers on the line up for the night, Sisiano, Ré, Kenneth Ize, Style Temple and Orange Culture.
Sisiano
Known for lots of fluidity, the Sisiano collection this season had some layers to it (with jackets) and I absolutely loved his colour palette as well. It reminded me of Earth, Wind and Fire with his use of lovely earth tones with a pop of BN Style yellow for some sunshine.
He brought the fire to the aforementioned trio with fiery red eyeshadow on the models for makeup.
After two full days of astounding showcases and covetable collections, Lagos Fashion Week Autumn/Winter Presentations 2018 concluded yesterday with impressive shows from Maxivive, Sunny Rose, Emmy Kasbit and Onalaja.
BellaNaija Style's Mary Edoro goes over the nitty-gritty of the concluding shows.
***
Kicking off the last day of fashion week and leaving fashion faves wanting more was what Papa Oyeyemi intended and he achieved that. Maxivive has always been a brand to make a lasting impression with gender variance., the presentation was completely rule-defying with exaggerated feminity and masculinity on display. Models switched roles; blond wigs, full face makeup, extra long nails and overemphasised moustaches were on the display.

at Lagos Fashion Week presentations Day 1 in Lagos, Nigeria.
at Lagos Fashion Week presentations Day 1 in Lagos, Nigeria.
at the Lagos Fashion Week presentations Day 1 in Lagos, Nigeria.
at the Lagos Fashion Week presentations Day 2 in Lagos, Nigeria.
at the Lagos Fashion Week presentations Day 2 in Lagos, Nigeria.
in Imad Eduso at the Lagos Fashion Week presentations Day 2 in Lagos, Nigeria.
in Orange Culture at the Lagos Fashion Week presentations Day 2 in Lagos, Nigeria.
at the Lagos Fashion Week presentations Day 2 in Lagos, Nigeria.
at the Lagos Fashion Week presentations Day 2 in Lagos, Nigeria.
at the Lagos Fashion Week presentations Day 3 in Lagos, Nigeria.
at the Lagos Fashion Week presentations Day 3 in Lagos, Nigeria.
at the Lagos Fashion Week presentations Day 3 in Lagos, Nigeria.
The night opened with Gozel Green, the design duo that embarked on a glowing international show rooms tour organised by Style House Files last autumn and have garnered a loyal clientele who love their play on proportion, finishing and contrasting palettes. For this season, all of those elements were present and correct, so no major scares for the core customer. However, and this was an exciting development, we were treated to athleisure motifs which found their way into pieces from the toggles on the hemlines of skirts and dresses through to a hoodie finish on a cropped blouse with the emblem "Me, My Earth, My Culture".
Ré too sent out a collection of mixed efforts. Known as a maestro of aso'oke she surprised with an opener of silk aquamarine long wrapped skirt and cropped balloon sleeved blouse before returning to presenting aso'oke pieces of varying lengths and strengths. One can definitely see the white dropped shoulder shirt dress mini finding a way and a special place into many closets. The same could be said for the trapezium rainbow shift dress, however, the a line thigh grazing skirts with matching cropped tops and the chiffon and aso'oke baby doll dresses less so. A series of long line waistcoats with trousers were again an attempt to show versatility – but within this particular collection, felt more like an add-on than an essential ingredient. An electric blue zig-zag cape top teamed with pale grey high waisted cigarette pant was beautifully executed and hinted at where the collection could have gone. Sometimes it truly is a case of less being more.
The night concluded with Onajala, and she chose to do a sartorial deep dive into the art of dressing entirely in black. But with one caveat, make sure it's high octane glamour, your heels are high hair scraped off your face and eyes are lined fullu. Hemlines and silhouettes moved around as colour was the only unifier so offerings ranged from a frou-frou A-line polka-dot netted cocktail dress to a long column dress, embellished evening coat, textured and structured culottes teamed with a silk vest and a pour-your-body-into boot cut jersey pant with beaded tunic top. It was very easy to see both the commerciality of this collection and by having such an array of silhouettes the way it would appeal to an audience, who judging from their cheers like to go out a lot and needed everything shown, like yesterday. A fitting end to a Lagos Fashion Week governed by the see now, love now, buy now model.
Source: BellaNaija