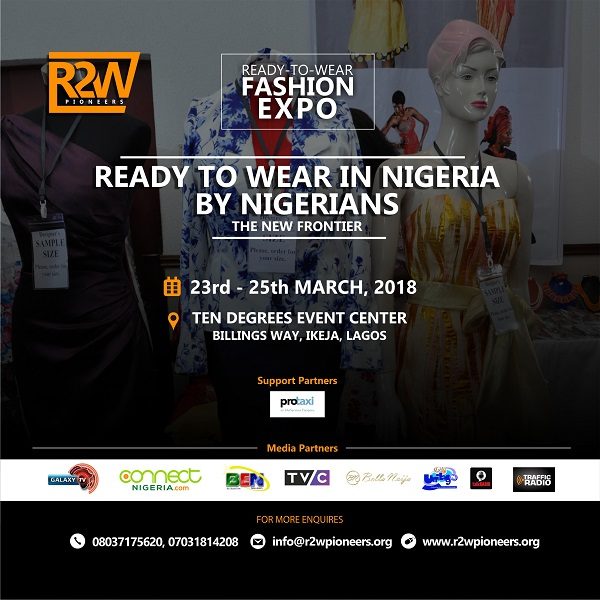 Join the Fashion Revolution!!!
Attend the R2W Fashion Expo themed the 'New Frontier'. It's all about celebrating ready-to-wear outifts in Nigeria made by Nigerians!
Date: Friday, March 23rd, 2018.
Opening Ceremony
Registration and Exhibition, all day
2.00 p.m.- Exhibition to be declared open by the Permanent Secretary, Lagos State Ministry of Employment and Wealth Creation- Dr. Yakub Olajide Basorun
5.00 p.m- Cocktail and Networking
Date: Saturday, March 24th, 2018.

Registration and Exhibition, all day.
10 a.m. Master Classes
4 p.m. Fashion Show
Date: Sunday, March 25th: Closing Ceremony

Exhibition all day
Closing ceremony at 6:00 pm.
Award ceremony to distinguished Fashion Designers
Launch of the R2W Pioneers
Over thirty Nigerian Fashion Designers are expected to participate in the exhibition. And over 3,000 visitors are expected at the three day event.
Venue: Ten Degrees Events Center, Billings Way, Oregun, Ikeja, Lagos.

For more information, check the website
Exhibition Space Booking –
Join other VIP Guests now –
Masterclass Training –
Mobiles (Call/SMS/WhatsApp):
08037175620, 08023702898

———————————————————————————————————————————————————–
Sponsored Content
Source: BellaNaija