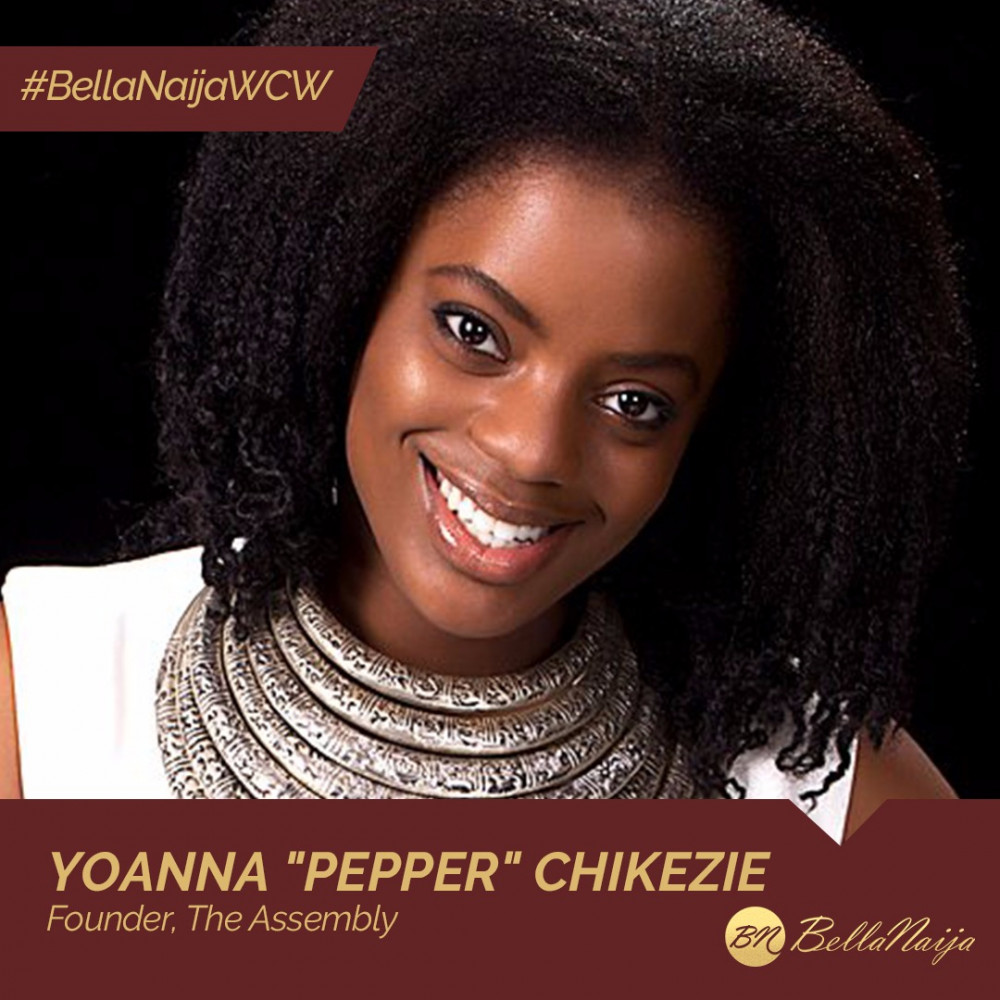 This week, in our #BellaNaijaMCM and #BellaNaijaWCW features, we'll be celebrating young high flyers in Nigeria's fashion and lifestyle space who are breaking boundaries with their work.
**
The importance of a community for an industry's growth cannot be overemphasized. The development of the tech industry in Nigeria and Africa is a perfect example.
Our #BellaNaijaWCW this week Yoanna "Pepper" Chikezie, after working as a stylist, and then a fashion journalist, and producer, decided to create a community of creatives who will share information, develop solutions, and contribute to the growth of Africa's fashion industry.
She decided to launch, "a community and platform for emerging talent, students, entrepreneurs, professionals and independent businesses in the fashion and creative sector."
"I had a strong conviction to start The Assembly because I wasn't comfortable with the way certain things were being done and how we're accustomed to being/doing in the fashion industry. Even though I've made my small contributions to the industry through my work, I wasn't satisfied knowing that I wasn't making the kind of impact I wanted. To be honest, I didn't know how or where I was going to start from, all I knew was that I've always been passionate about raising the standard of Africa's fashion industry and I wanted to create a community where like minds could regularly connect and develop their ideas, skills and businesses. It was important for me to create spaces and opportunities for anyone to feel they can have the right access and platform to realise their dreams and ambitions," Pepper said, in an interview with
The Assembly, not just provides fashion business and educational support, but also, access to mentoring, funding and operational support to emerging talent and startups while pushing for creative collaboration in the industry. The community now has over 1,000 creatives on its platform.
Pepper had served as Channel Manager for 24/7 African fashion and lifestyle channel, Spice TV. She has a BA Hons degree in Culture, Society and Communications from the University of Birmingham and an MA in Strategic Fashion Marketing & Management from London College of Fashion (LCF).
Her over 10-year career in the fashion industry cut across Media, PR and Consulting in the UK and West Africa.
She is also the founder of Retrospective, Nigeria's first vintage retail brand and was on Business Day's The CEO Class of 2018.
Source: BellaNaija