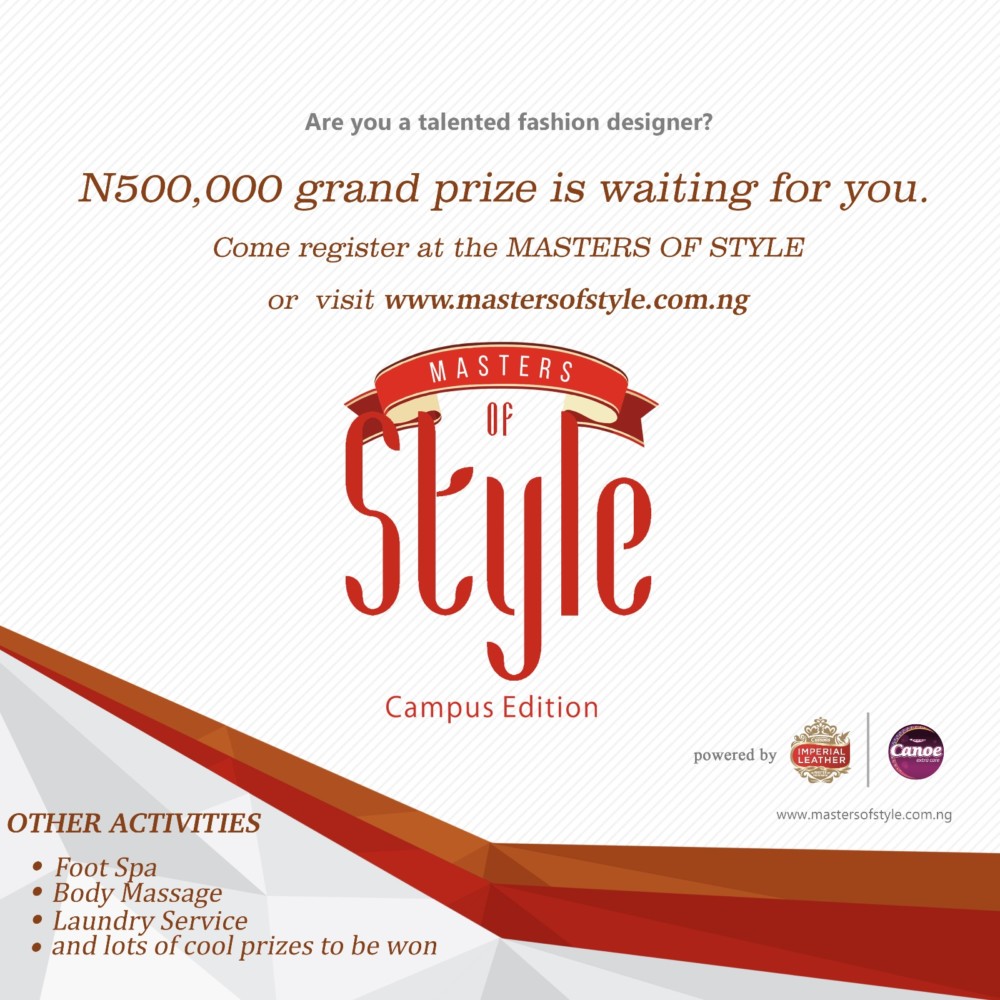 PZ Cussons' heritage brands; Imperial Leather and Canoe are giving you the opportunity to showcase your talent in the 'Masters of Style' fashion design competition; campus edition. You have the golden opportunity to win the grand prize of N500, 000 cash, an internship with a top fashion designer and to crown it all you also get to showcase your designs in one of the biggest Nigerian Fashion shows. Now that's awesome!
The Masters of Style Competition is open to students of 5 universities across Nigeria. The universities include; University of Jos, University of Lagos, University of Calabar, University of Port Harcourt and University of Benin.
How to Enter:
 Head on to www.mastersofstyle.com.ng to register.
 Fill the form with your accurate information/details
 Follow on Facebook and Instagram @Imperialleatherng @Canoelaundryng
 Upload two (2) images of dresses you have designed before.
 Share the uploaded images on your social media pages using the hashtag
#MastersOfStyle
 Bring the 3 dresses to the Masters of Style Sewing booth when it comes to your
campus for final vetting by Judges to qualify for the competition
The masters of Style competition will be touring the 5 universities:
Arrivals:
Unijos: Wednesday, June 27th, 2018.
Uniport: Monday, July 2nd, 2018.
Uniben: Friday, July 6th, 2018.
Unilag: Wednesday, July 11th, 2018.
Unical: Wednesday, August 1st, 2018.
All participants must have registered for Masters of Style competition on or before the arrival date for their University. To enter this competition you must be able to sew, each participant will be tested on their creativity, originality, design, detail and time consumption.
Hurry now and register!
For more information visit or follow and on Facebook and Instagram, you can also check out the hashtag
#MastersOfStyle on social media.
—————————————————————————————————————————————
Sponsored Content
Source: BellaNaija