We're super proud of Nollywood actress Adesua Etomi-Wellington who has been featured on the cover of American Vogue Magazine. MAJOR!
Award-winning Nollywood sweetheart Adesua is one of the 14 people highlighted for impacting the world with their craft as TV stars.
Click here if you missed the cover.
When we heard the exciting news a few days ago, we reached out to Adesua to know how it all went down and how she felt about the amazing opportunity.
According to Vogue:
The Nigerian actress Adesua Etomi-Wellington can't walk down the street in Lagos without getting mobbed, and if she's with her husband, the actor Banky Wellington, forget it—a trip to the grocery store launches a thousand selfies. But unlike some of her cohorts on the shoot, she's more of a third-culture kid, born in Nigeria and raised mainly in England. (She speaks in two fluent accents—Lagos and the British Midlands.) She went to school in Coventry, studied drama at University of Wolverhampton, and then got a nine-to-five job with the fashion arm of a large supermarket chain. It was then that, as she puts it, "I can't explain it—I felt I had to go back to Nigeria."

That was toward the end of 2012, and in the past six years or so she has become one of the biggest stars in Nollywood, Nigeria's relatively young film industry. The Wedding Party (2016), a colorful and witty romantic comedy in which she plays the lead opposite Wellington, was the highest-grossing film in the history of Nigerian cinema, until it was eclipsed by its sequel, which also starred Etomi-Wellington. In fact, she points out, of the four films that have done best for the relatively young industry, she is in three. "I love, love, love Nollywood," Etomi-Wellington says brightly over tea and biscuits at the shoot. "I feel like she's my baby, and it's my responsibility, along with a lot of other performers, to grow her."
Here's what she shared exclusively with BN.
How was it when you were contacted?
Adesua: I was shell shocked. I received an email out of the blue and I wasn't sure what to make of it. I sent it to my husband and was like 'MY ACTUAL CHESTTT' (laughs). We responded and when I went to New York for the Annual Goalkeepers event, I was able to visit the Vogue office and I met everyone. They were all so lovely. They didn't know much about Nollywood so I gave them a lot of information and told them about our movies on Netflix like "The Wedding Party" etc. The entertainment director at the time Jill Demling (who is now with British Vogue) watched it and loved it.
How was the shoot experience?
Adesua: It was amazing. I had a lot of fun. They're very organized, incredibly thorough and so easy to work with. There were so many talented people on set. Everyone worked very hard, and it was beautiful to witness the camaraderie. I had a great time and it's an experience I won't ever forget. I was able to take my make up artist along with me – T.alamode (Tito Ibeleme) and she had a great time too.
Why did you choose to be featured?
Adesua: I didn't choose, they chose me…but I agreed to be featured because It's monumental. It's imprinted in my history for all time and I think that's really special. I also love Nollywood and I love Nigeria and I will do anything that puts us in a positive light. I always say that no matter where I go, I'm taking Nigeria with me.
One word to describe how you feel:
Adesua: I have two. 'Incredibly Grateful'.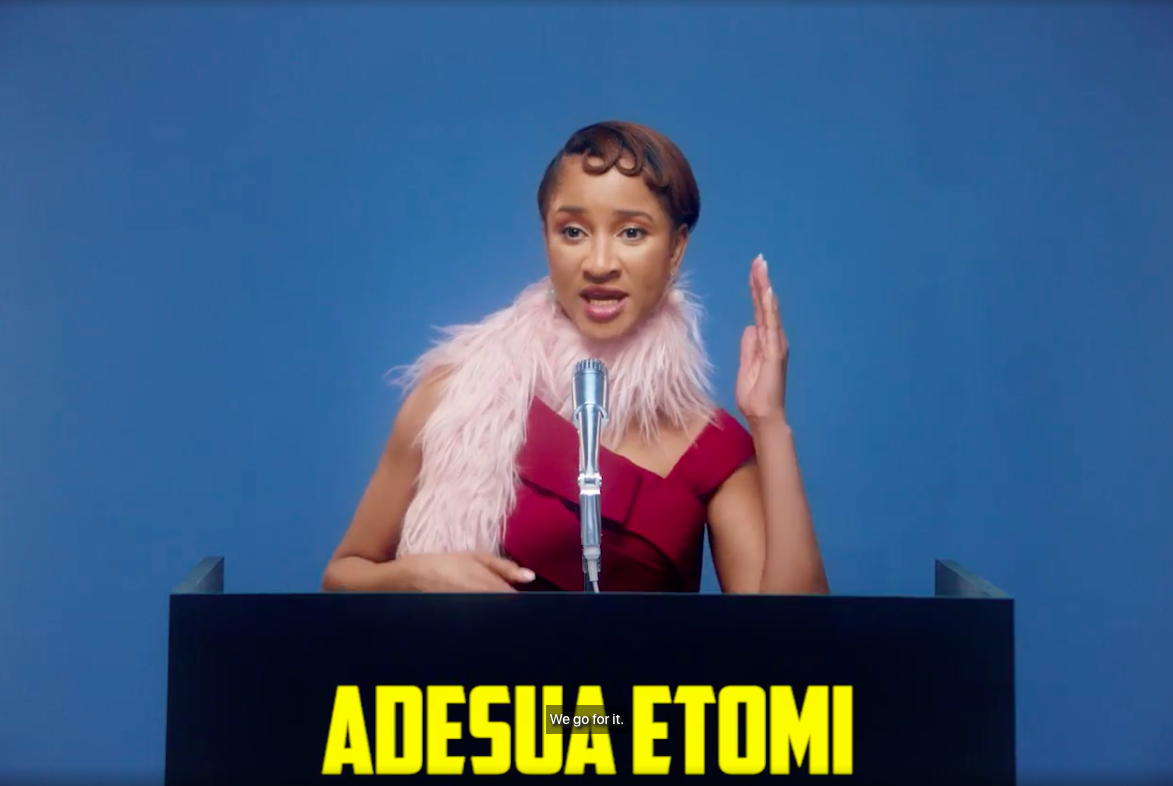 Photo Credit:
Source: BellaNaija