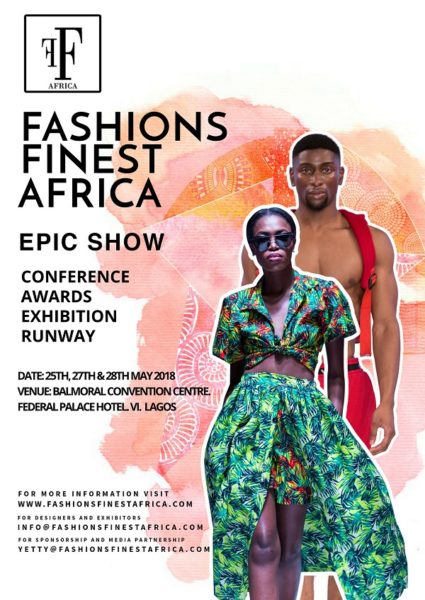 Fashions Finest Africa Epic Show is set to be next biggest thing to hit the African fashion industry. This would be three days of nonstop fashion and fun with a lot of activities for those in the business of fashion and for lovers of fashion.
Date: Friday, May 25th to Monday, May 28th, 2018
Venue: Balmoral Center, Federal Palace Hotel, Victoria Island, Lagos
Nivea, international leading skincare company and Darling, top manufacturer of quality hair products in Nigeria are big sponsors of the Epic show. In Nivea's statement as to why they sponsored the Epic Show, they had this to say;"Given the unique connection the Nivea Invisible for Black and White deodorant range has with style, Nivea is proud to be a sponsor of Fashions Finest Africa.
FFA is one of the foremost fashion platforms in West Africa that brings together key players and elements in the African fashion industry. The event presents an opportunity for the brand to showcase its unique qualities while creating a memorable experience for attendees".
A representative of Darling also said "We are interested in partnering with FFA because it is a ready and Brand-centric platform to exhibit and showcase our product offerings and varieties".
The fashion extravaganza will kick off on Friday Morning, with a Fashion conference where those who matter in the fashion industry will take on panel sessions. The conference themed; "Increasing Nigeria's participation in the Global Garment Production industry" has Her Excellency Hajia Aisha Abubakar,Ministerof State for Industry, Trade and Investment as the Guest of Honour while Mallam Ismaila Zakari(ICAN President) would be speaking at the conference. Jennifer Sutton (Development Director, Fashion Enter/Capital Uk) who is the Headline conference speaker will be discussing the British fashion industry and how Fashion Enter now successfully produces up to 10,000 units a week in a fully compliant factory, and how their practices and approaches can be executed in the Nigerian Garment/fashion industry. Mabel Doe (Technical consultant/Fashion Technologist) who are experts in their fields would also be speaking at the conference. Our Panel session includes Funmi Ajila-Ladipo (FADAN PRESIDENT), Chris Oputa (CEO Studio 24), Ohimai Atafo (CEO Mai Atafo) and Morin Obaweya (CEO Morin.O)
Then later in the day the prestigious Fashions Finest Africa Awards will take place. The essence of the awards is to celebrate those who have made a mark in the fashion industry.
All through the three days, we will also play hosts to Exhibitors and our marketplace vendors giving the opportunity to fashion lovers to shop till you drop. The Epic show will continue on Sunday and Monday with Fashion shows featuring Student designers, New and Emerging designers and established designers out of Africa. After the Fashion show on Monday evening, the Epic Show will be closed with the Fashions Finest Africa Rave where everyone would hit the dance floor and have even more fun with Ace DJ Crowd Kontroller on the wheels of steel. Check out for more information.
For more info on Designers and Exhibitors, send an email to
For more info on Sponsorship& Partnership, send an email to
————————————————————————————————————————————————————————–
Sponsored Content
Source: BellaNaija