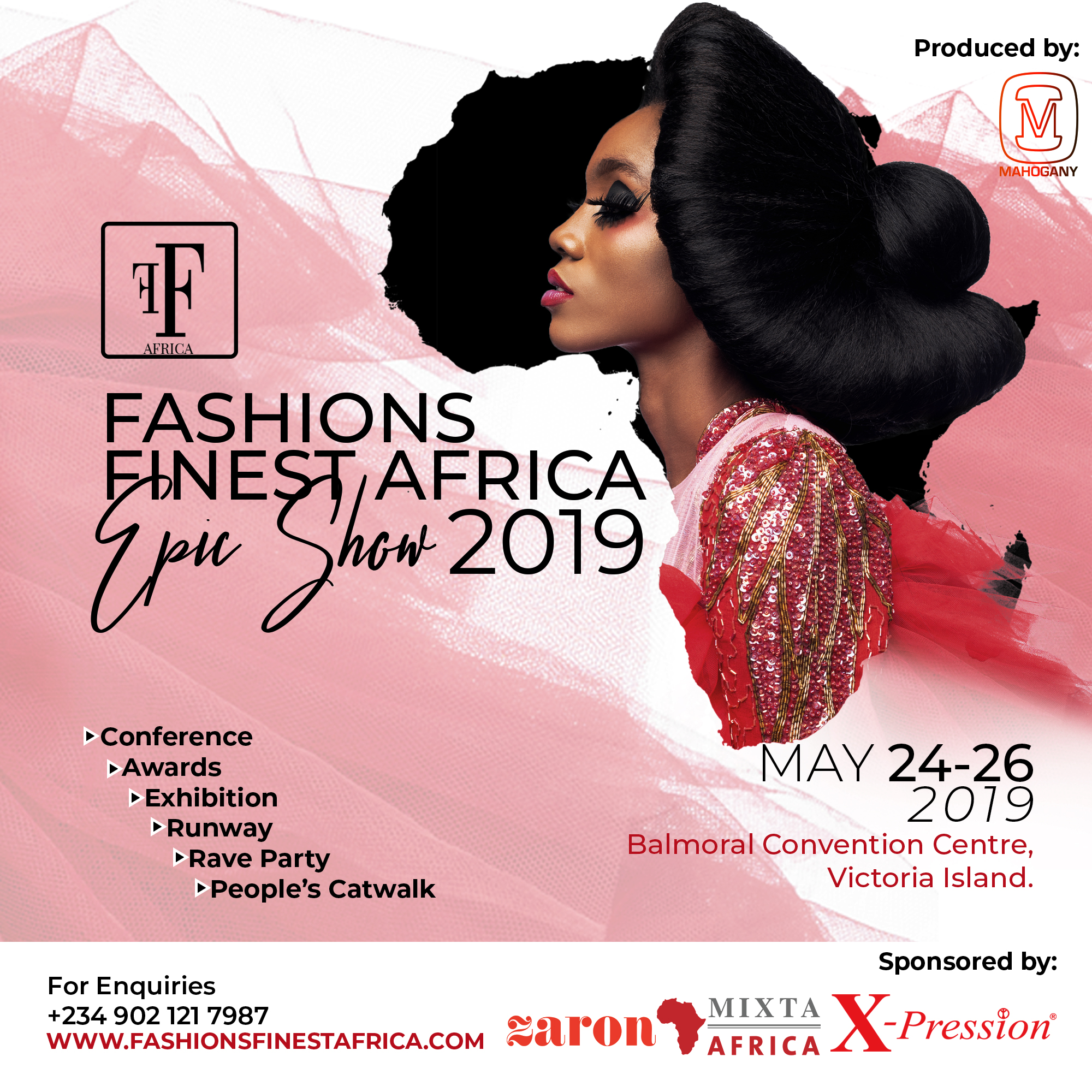 Fashions Finest Africa is back this year Bigger, Better and filled with so much Fun!
Fashions Finest Africa Epic Show, which was conceptualized to give voices to fashion talent from across Africa, debuted in 2017 and has since produced 2 fantastic shows, Renaissance (2017) and Epic Show (2018), which included the conference, runway show, exhibition, awards, and the rave party.
Annually, the show brings together industry leaders, stakeholders, artisans, industry creatives and fashion designers from all over Africa, US and Europe to recognize, partake and utilize this medium to present their passion, art, and talents.
Fashions Finest Africa 2019 is laser-focused on connecting talented and aspiring fashion enthusiasts to industry leaders, inspiration and opportunities to take their craft to the next level. This year, Fashions Finest Africa will be a 3-day event featuring a conference, fashion shows, awards, exhibition, and ending with the 'Fashion Rave' party.
Fashions Finest Africa 2019 is scheduled to hold as follows:
Date: Friday, May 24th – Sunday, May 26th, 2019
Venue: Balmoral Convention Centre, Federal Palace Hotel, Victoria Island, Lagos.
Attendance is FREE!!!
The Conference
The Conference, which takes place on the first day May 24th, 2019 from 9 am to 3 pm is divided into two segments:
The first segment is themed, "The Business of Fashion: How to Get Your Brand from Catwalk to High Street Stores". This theme tackles the several difficulties designers are experiencing with getting their designs into stores after they have showcased on a runway.
The confirmed line-up of speakers includes Annie Oti, Founder/CEO of Africa Law, Funmi Ajila-Ladipo, CEO Fashion Designers Association of Nigeria (FADAN), Segun Ajasa, Ugo Monye, Vlisco and representatives of Bank of Industry. It will be a platform for these leaders to share their wealth of experience, what to do and what not to do.
The second segment titled The African Model Congress is organized in partnership with the Organisation of Models in Nigeria to educate aspiring and emerging models on how to climb the ropes and rise to stardom in the modelling industry globally. This is an opportunity for models to acquire expert knowledge and information from industry experts about the do's and don'ts of the modelling industry and obtain insights into the latest modelling trends.
Fashion Shows
Fashions Finest Africa Epic Show will see some of Africa's most promising emerging designers showcase an amazing array of designs during various shows on 24th and 25th May 2019. Over 35 designers are currently billed to showcase across the two days.
People's Catwalk (#Peoplescatwalk)
The People's Catwalk creates a platform where anyone and everyone who perhaps because of size, age, gender, etc had been stereotyped or ruled out of modelling, can show their catwalk skills and win themselves mouth-watering prizes.
100 semi-finalists, selected from the #Peoplescatwalk competition on Instagram, will compete at the semi-finals and Finals, for a chance to win a grand prize of 100,000 Naira and other amazing prizes.
Fashions Finest Awards
Fashions Finest Awards is the most prestigious Fashion Awards in Africa, aimed at recognizing Africa's best talent in the fashion industry. 187 nominees, spread across a total of 22 categories have been nominated for an award. The Awards show is scheduled for 26th May 2019 at the Balmoral Convention Centre, Victoria Island, Lagos.
Fashion Rave
Fashions Finest Africa X Must Blow Entertainment presents Fashion Rave, which is the perfect blend and fusion of a Fashion show and a Rave Party. The Rave will be hosted by Crowd Kontroller and graced with guest celebrities and the baddest DJs in Africa and beyond. It promises to be so much FUN!
For more information and participation details: Call Kelvin via +234 902 910 9946 or send an email to [email protected]com. Visit www.fashionsfinestafrica.com for more information.
Follow Fashions Finest Africa on all social media for updates: Instagram @fashionsfinestafrica, Facebook Fashions Finest Africa and Twitter @Africa_fashions.
—————————————————————————————————————————————————————————
Sponsored Content
Source: BellaNaija