The theme of this year's Met Gala was 'Camp: Notes on Fashion' and we were well prepared for some seriously over the top fashion.
From actresses, and models to athletes and tech types, Met Gala guests went full fashion last night and give a chance to ensembles they wouldn't dare otherwise attempt while flashing bright smiles for the paparazzi.
Most of the stars (and stylists behind their looks) took notes from Susan Sontag's 1964 essay, which defined camp as "love of the unnatural: of artifice and exaggeration… style at the expense of content… the triumph of the epicene style". The pink carpet on the Met steps set the pace for high fashion, fun, experimentation, exaggeration and, most importantly, real fun.
Following the theme, here are the night's most successful ensembles.
1. Lady Gaga
Wearing Brandon Maxwell
No, doubt, the Met Gala 2019 co-chair was the belle of the ball last night transitioning from parachute dress, ball gown, retro pink dress and finally to fancy underwear in less than 4 minutes! Truly a fashion moment only Gaga can pull off.
2. Cardi B
Wearing Thom Browne
The rapper is proving herself to be an icon not only in music but also fashion. Cardi brought Camp with her in a look reminiscent of Rihanna's Met Gala 2015 Guo Pei gown. She was covered head to toe, in an oxblood gown featuring a train that encircled her for about 10 feet. According to Vogue, the tulle and silk organza Thom Browne ensemble took 35 people more than 2,000 hours to create and is embellished with 30,000 feathers.
3. Lupita Nyong'o
Wearing Versace
Oh, Lupita! Every red carpet moment is a lesson in Black/African culture and last night with the help of Vernon François, she turned heads with afro combs stuck in her hair which represented not just a game-changing accessory but also a sign of collective identity and stand against oppression. Her big, bold and black hair was complemented by bright campy makeup.
We also enjoyed a jaw-dropping Versace moment. Lupita's look included a star cut see-through skirt with a statement-making rainbow shoulder cape and a matching fan.
4. Billy Porter
Wearing The Blonds
Billy Porter never passes up a moment to show up and dominate the carpet. He casually arrived on the shoulders of six shirtless men wearing golden pants while he donned a golden catsuit, with gold fringe details. Then when he had climbed up the stairs, he revealed 10-foot golden wings. Epic!
; "Each piece took several months to create. Customized for Billy, the catsuit was embellished by hand. This is meant to emulate the rays of the sun as they catch and move the light. The wing cape is an archival piece, and it is comprised of gold baguettes, crystals, and beads, all anchored with caviar beads."
5. Janelle Monae
Wearing Christian Siriano
Janelle mixed high fashion with high tech in the most glamorous way with a literal head-to-toe interpretation of the camp theme. She wore a balloon-hipped Christian Siriano dress with a motorized blinking eye, yes the eye was, in fact, blinking. On her head, she wore one gravity-defying hat that carried three others.
Extra points for being so extra!
6. Zendaya
Wearing Tommy Hilfiger
Zendaya literally lit up on the pink carpet wearing a Cinderella-esque dress and intentionally left a slipper on the staircase – Cinderella style. A classic fairytale turned into a modern style transformation, the Law Roach-styled look made our list of the most dramatic entrances at the 2019 Met Gala. As she arrived, there was a magic wand effect with smoke transforming her look into a glow in the dark ball gown. Her hair was also styled in a blonde French twist with a headband secured on top.
7. Céline Dion
Wearing Oscar de la Renta
Céline Dion looked ready to have fun last night in a Judy Garland-inspired timeless gown that screamed old Hollywood glamour. According to Oscar de la Renta, the look was made up of 18 panels that were hand-beaded by 52 master embroiderers over the course of over 3,000 hours. The final piece weighs over 22 pounds.
8. Jared Leto
Wearing Gucci
Leto took self-love to another level carrying his own Gucci head up the Met stairs. This head accessory is part of Gucci's head clutches that debuted during Milan Fashion Week earlier in the year. Jared is becoming a Gucci ambassador at Met, remember last year when he dressed as Gucci "jesus"? Last night, he wore another head turning (literally), a long-sleeved red, silk gown encrusted with jewels.
9. Ciara
Wearing Dundas
Ciara's afro-chic inspired hair won the beauty look of the night. But what about her dress? Her interpretation of the camp theme was a custom emerald green gown designed by Peter Dundas that featured specific cut-outs to accentuate her frame. The gown was lined with hundreds of ostrich feathers and paired with bold jewelry.
10. Ezra Miller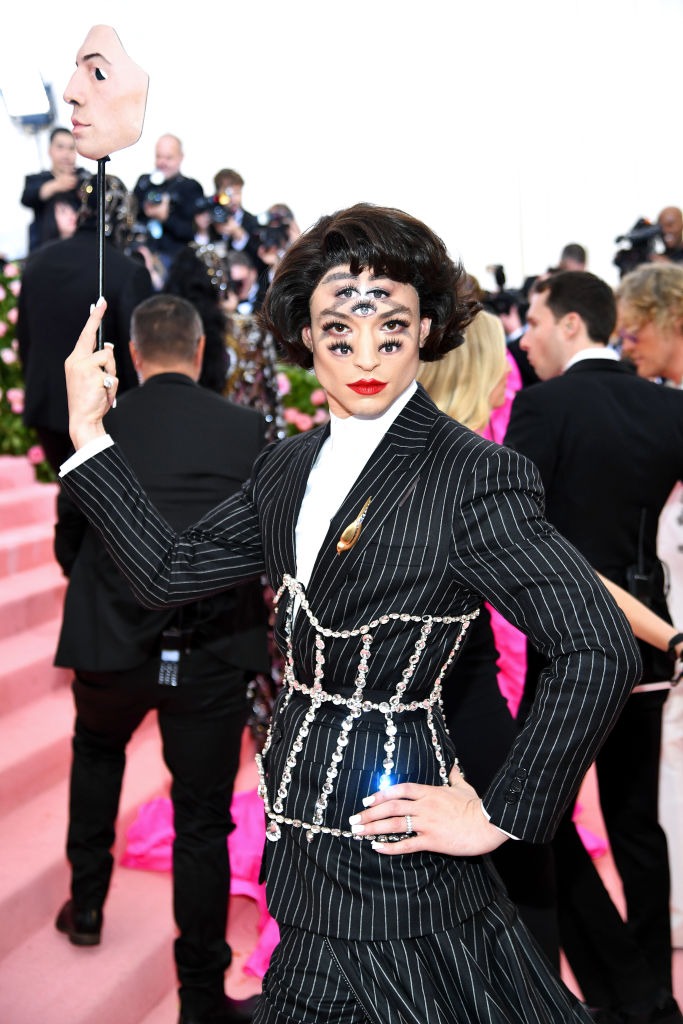 Wearing Burberry
Ezra arrived at the 2019 Met gala in one of the most on-theme looks of the night. The actor wore a jeweled corset with a Riccardo Tisci designed black pinstripe suit with a train. He injected art into his costume with five extra eyes painted on his face, an illusion that commanded everyone's attention. The whole look was a lesson in the history of non-binary fashion and mixed androgyny, absurdity and exaggeration in the most genius "Camp" way.
Other Noteworthy Looks…
Kerry Washington
Wearing Tory Burch
Deepika Padukone
Wearing Zac Posen
Kiki Layne
Wearing Gucci
Florence Welch
Wearing Gucci
Danai Gurira
Wearing Gabriela Hearst
Who were your best-dressed stars at the 2019 Met Gala?
Photo Credit: Getty Images
Source: BellaNaija